Our next entry in the Christmas Cookie Bonanza is Spritz cookies, the kind of butter holiday cookie you make with a cookie press. Incidentally, I appear to own three of those handy goodies. And I only make Spritz once a year. I have apparently bought a cookie press every year the last few years, deeming the previous year's model not good enough, for whatever reason. And yet, I haven't come across any of the three of them as I've been working on unpacking my Christmas goodies this week. Maybe this is how I wind up buying a new one every year...
Anyway, Spritz are a tasty cookie that you can decorate, with piped on frosting, non-pareils and other sprinkles, colored sugars and so forth. I honestly like the taste of them without any decorations on them, but I rarely leave any without decoration. They just wouldn't be Christmas cookies without the beautiful decorations!
This is a tried-and-true recipe, I've used it since 2005 and always had wonderful results.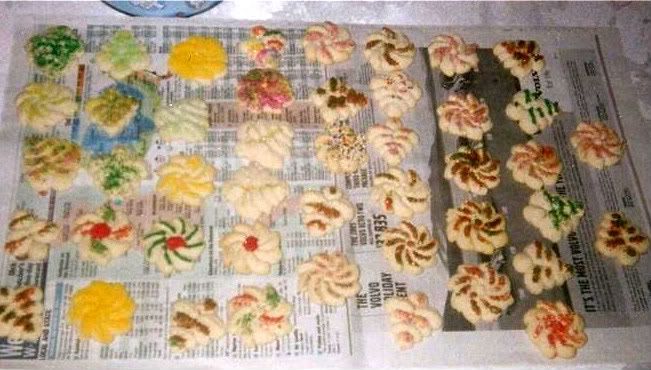 Spritz
Printer-friendly recipe
1 cup 10x sugar
1 cup butter
1/2 tsp vanilla extract
1 egg
2 1/3 cup all-purpose flour
1/4 tsp salt
1. Cream butter and sugar. Preheat oven to 400 degrees.
2. Add egg and vanilla.
3. Sift flour and salt together and add to batter. Mix thoroughly.
4. Use a cookie press and add cookies to ungreased cookie sheet.
5. Bake at 400 for 5-7 minutes.
6. Let cool fully before decorating.
7. To decorate, whisk some egg whites in a bowl, and get a paintbrush. Paint the area you want your sugars to stick to with your paintbrush, then either dip your wet cookie in sugar or sprinkle your sugar on top of your cookie, whichever floats your boat.
NOTE: Some people like to color their cookie dough instead of decorating with colored sugars and things.